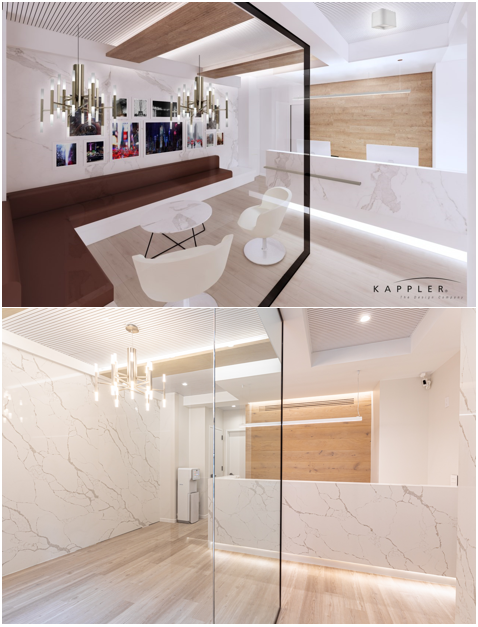 Practice planning for physicians - step by step to the desired practice (Part 2)
After part 1 of our practice planning series was dominated by rather basic questions, part 2 gets down to the nitty-gritty, so to speak. This article first takes an in-depth look at the interior design/architecture of your future practice and then moves on to the area of practice construction.
The following four points await you:
Building equipment list
Construction costing
Practice construction/practice conversion
Practice planning Step 5: Interior design and interior architecture
The interplay of functionality and ergonomics is only one side of the coin of good practice planning. A practice concept is only complete when aesthetics are also given their due. Our goal is to model a modern, contemporary ambience from your ideas and to create an environment in which employees and patients alike feel comfortable. The perfect practice design can be achieved through a well thought-out focus on colors, furnishings, lighting concept as well as plants & decoration.
Furnishings: A consistent concept is elementarily important. A wildly mixed collection of the most diverse furnishings radiates unrest and randomness. The furnishings of your medical or dental practice must be coordinated, the practice concept must be coherent. The atmosphere created by the furniture in the reception and waiting area is ideally echoed in the treatment rooms. Although functionality is in the foreground there, aesthetics need not lead a shadowy existence.
It is especially important, however, that the furnishings of the reception desk and those in the waiting room help to make your patients feel comfortable in your new practice right from the start. Therefore, when choosing furniture, pay attention to the following things:
The ideal seating is both comfortable and functional. A soft leather sofa would be convincing on the first point, but would be a challenge for older patients in particular. They often find it difficult to get up again from such a soft piece of furniture.
Make the best use of the available space. Again, the leather sofa may serve as an object of explanation. It would take up an enormous amount of space and significantly minimize your options in terms of waiting area design. More practical are individual seats that can ideally be placed variably.
Make sure that all furnishings in your practice are easy to clean
And of course, the furniture must also fit into the practice concept in terms of color.
Away from the waiting room, the intended use of the space dictates the furniture selection anyway. A reception counter in the reception area, tables and comfortable chairs for the lounge, a desk for the office and treatment furniture for the treatment room. In addition, there are boxes, cabinets and other classic practice furniture, which are necessary in the operation of the practice.
Colors: When thinking of a doctor's office, most people's first association is probably the color white. It stands for cleanliness and hygiene. However, it also exudes sterility. And that's exactly what we don't want. Nobody feels comfortable in sterile rooms; they seem cool, not at all inviting. Other colors, on the other hand, spread a completely different mood.
A few examples of color use in practice planning:
Yellow: radiates optimism, makes small rooms appear visually larger
Blue/Green: Has a relaxing and calming effect
Red: Stimulating radiance, energizing and vitalizing.
Not every color is suitable for every medical practice. While pediatricians are more than happy to go a little more colorful, dentists should tend to go for soothing hues. It is important to have a consistent and well thought-out color concept that runs through the entire practice.
Lighting concept: An immensely important point in the course of practice planning is the creation of a lighting concept. Just as the practice itself is divided into different areas (reception, waiting area, treatment), the lighting must also fulfill different tasks. Whereas in treatment rooms and in areas for VDU work, the focus is on functionality, in the waiting area the creation of a pleasant atmosphere is the first priority.
Lighting in the reception area/waiting room: A friendly, bright and open ambience can be created, for example, by using a combination of separate suspended lamps and fixed wall luminaires The recommended illuminance should also not be neglected. Important: The reception desk is also the workplace of the receptionist. Different legal requirements apply to such areas. The illuminance must be 500 lux, and there must also be no glare.
Light in the treatment room: Here, a combination of good general lighting with a constant level and flexible elements for examinations is necessary. Smart control elements make everyday practice easier.
Plants & Deco: The mood in your dental office can be lightened with plants and various decorative elements without much effort. In addition, the indoor climate is significantly improved by plants. Pictures and other elements add a certain personal touch to a dental practice, which helps create a pleasant ambiance. It is important not to make decisions regarding plants and decoration alone, but to involve the staff. After all, they also work in the practice every day and should feel comfortable here.
3D visualization
No matter how much is said in advance about the floor plan and design: All theory remains gray. That's why we offer each of our customers a 3D visualization in addition to the concept. Thanks to the renderings from our proven Dental Design Studio, you can get an idea of what your new dental practice will look like later on. And after all, a picture is worth a thousand words.
Of course, this offer is not only valid for a practice start-up, but is also part of our service portfolio in case of a practice renovation or a practice relocation.
Practice planning Step 6: Building equipment list
Now that the practice floor plan and practice furnishings have been largely determined, the next step in practice planning is to create a building equipment list.
The following questions, among others, are elementary:
What materials are needed?
What furnishings?
Where are the utensils available?
Make sure that the list is complete. If something is missing from the list, it will also end up missing from the construction site. Delays also push the day of the planned opening of the practice further and further back. This, in turn, not only causes the stress level to go up, but also simply means financial losses.
When drawing up the construction equipment list, also make sure that details such as fittings, (door) handles, etc. fit harmoniously into the developed practice concept. Small things can have a big effect. Especially when they intrude into the foreground in a disruptive way.
Practical planning Step 7: Determining construction costs
Once the floor plan is complete, the practice design is determined, the practice furnishings are selected and the construction equipment list is drawn up, it's time for the finances. The construction cost calculation helps you keep track of your expenses.
In addition, three important tips of practice planning:
Transparency: Include every expense, no matter how small, in the construction cost calculation. In this way, you will not only be able to keep track of the financial situation surrounding your practice planning at all times. At the same time, you have the relevant figures at your fingertips if one of your partner companies requires the relevant information.
Buffer: Never plan too tightly! Be sure to include a financial and time cushion. As a rule, unpleasant surprises occur with every project, which can be cushioned more easily thanks to the buffer.
Synergies: When applying for loans and grants, be sure to remember to not only put up enough funds for the practice building itself, but also to include the cost of necessary work equipment (devices, software, etc.) at the same time.
Practice planning Step 8: Practice construction
In order for the companies commissioned with the construction of the practice to be able to implement the overall concept created 1:1, you need construction documents that are as detailed and meaningful as possible.
Since practice construction is not completed in a few days, but the project usually drags on over a longer period of time, good project management is particularly important.
We at Kappler will support you throughout the entire duration of the practice planning and will gladly coordinate the cooperation with construction companies and subcontractors, landlords, etc. for you. Together we will bring your practice project to a guaranteed positive conclusion!